SUPERCHARGED MODEL A STREET ENGINE
---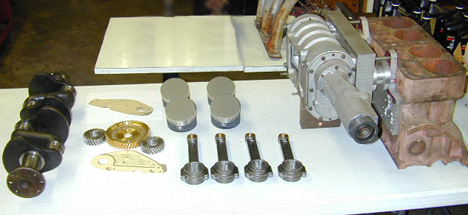 WE ARE CURRENTLY IN THE PROCESS OF CONSTRUCTING OUR SUPERCHARGED MODEL A ENGINE.
THIS ENGINE UTILIZES A MODEL A BLOCK, MODIFIED FOR FULL PRESSURE OILING. THE BLOCK IS SLEEVED WITH MODERN DUCTILE IRON SLEEVES & HAS HARD VALVE SEATS INSTALLED.
WE ARE USING A MODEL C FORD COUNTERWEIGHTED CRANKSHAFT MODIFIED TO FIT INTO THE A BLOCK. CROWER BILLIT STEEL RODS ARE USED WITH MODERN INSERT BEARINGS, 2 PAIR PER ROD.
ARIAS PISTONS CUSTOM MADE THE FORGED HIGH SILICONE ALUMUNUM PISTONS, WHICH HAVE BEEN TEFLON COATED ON THE SKIRTS & CERAMIC COATED ON THE TOP FOR HEAT DISSIPATION.
CRANE CAMS IS GRINDING A CAMSHAFT ESPECIALLY FOR THIS BLOWN ENGINE WHICH WILL OPERATE CUSTOM DESIGNED 1.700" STAINLESS STEEL INTAKE VALVES & 1.530" EXHAUST VALVES.
WE ARE CURRENTLY MANUFACTURING A CUSTOM FRONT GEAR DRIVE TO DRIVE THE CAMSHAFT & SUPERCHARGER.
THE SUPERCHARGER MANIFOLD IS ROUGHED IN, READY FOR FINAL MILLING.
STAY TUNED FOR FURTHER COMPONENT DEVELOPMENT AS WE PROCEED WITH THIS PROJECT.


RETURN TO HIGH PERFORMANCE SEMINAR SECTION
RETURN TO FRONT PAGE