BRONZE CAM GEAR WITH BILLIT STEEL CRANK GEAR SET




---



FOR THE ULTIMATE DURABILITY IN CAMSHAFT DRIVE GEARS WE OFFER THESE DAN McEACHERN BRONZE CAMSHAFT GEARS, MATCHED WITH HIS BILLIT STEEL CRANKSHAFT GEARS.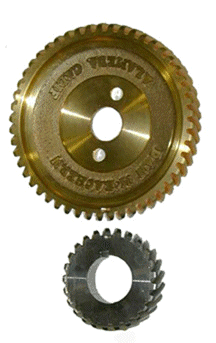 BRONZE CAMSHAFT GEAR PT.# A-6256-B





BILLIT STEEL CRANKSHAFT GEAR, HEAT TREATED
PT.# A-6306-B
THIS GEAR SET IS MATCHED FOR QUIET OPERATION & WILL OUTLAST THE PRESSED METAL CRANKSHAFT GEAR WITH FIBERGLASS CAM GEARS MANY TIMES OVER.
IF YOU ARE BUILDING A HIGH PERFORMANCE MODEL A ENGINE OR AN ENGINE THAT WILL SEE EXTREME MILES OR HEAVY LOADS, THIS IS THE BEST GEAR SET ON THE MARKET.
IT IS EXTREMELY IMPORTANT THAT THE CENTER TO CENTER DISTANCE FROM YOUR CRANKSHAFT TO YOUR CAMSHAFT BE CORRECT, FOR THERE IS NO FORGIVENESS AS WITH THE SOFT FIBERGLASS CAM GEARS.
WHEN WE BABBIT YOUR MODEL A MAIN BEARINGS, THIS DIMENSION IS HELD WITHIN .001".