DRILLING YOUR CRANKSHAFT FOR PRESSURE OILING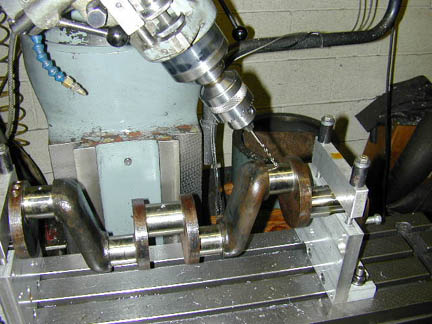 WE FIXTURE YOUR CRANKSHAFT IN OUR MILLING MACHINE & DRILL THE OIL FEED HOLES FROM THE MAIN JOURNALS TO THE ROD JOURNALS. THIS ALLOWS THE CRANKSHAFT TO BE USED IN A FULLY PRESSURIZED OIL SYSTEM.
THIS TYPE OF CRANKSHAFT MODIFICATION MUST BE USED IN A BLOCK THAT HAS BEEN MODIFIED TO SUPPLY THE MAIN BEARINGS WITH PRESSURIZED OILING. THE OIL THEN FEEDS FROM THE MAIN BEARINGS TO THE ROD BEARINGS VIA THE DRILLED PASSAGES. YOU NO LONGER USE THE DIPPERS ON THE CONNECTING RODS.
THIS CREATES AN OILING SYSTEM AS IN MODERN ENGINES.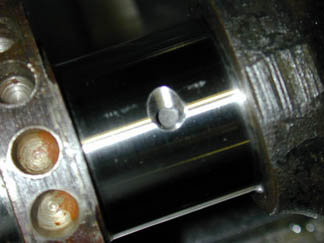 DETAIL OF OIL HOLE IN ROD JOURNAL

SEE THE LABOR PRICING SECTION IN THE WEB CATALOGUE FOR PRICING.