ARIAS FORGED SILICON ALUMUNIM PISTONS
---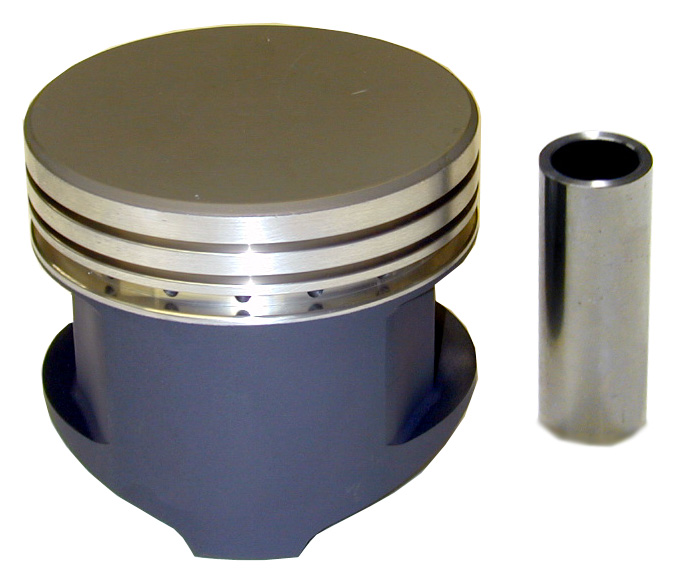 THESE PISTONS ARE CUSTOM MANUFACTURED FOR US BY ARIAS FORGED RACING PISTONS.

THESE PISTONS ARE MACHINED FROM A HIGH SILICON ALUMINUM FORGING. THIS RESULTS IN A VERY STRONG & LIGHTWEIGHT PISTON WITH MINIMUM HEAT EXPANSION PROPERTIES.
THESE PISTONS HAVE THE STANDARD COMPRESSION HEIGHT, 1" PIN DIAMETER, DOUBLE SPIROLOCK PIN RETAINERS, 5/64", 5/64", 3/16" RING GROOVES FOR MODERN SEALED POWER MOLY RING SETS.
WE ONLY OFFER THIS PISTON IN STANDARD BORE. YOU MUST SLEEVE YOUR BLOCK WITH OUR # A-6055 SLEEVE IN ORDER TO PROVIDE THE CORRECT CYLINDERWALL MATERIAL TO BE COMPATIBLE WITH MODERN MOLY RINGS.

PART # A-6108-M-STD

USE WITH RING SET # A-6149-M-STD

THE PISTON SHOWN HAS OUR TEFLON COATING ON THE SKIRT & CERAMIC COATING ON THE TOP. THESE COATINGS ARE HIGHLY RECOMENDED AS THEY ALLOW FOR TIGHTER PISTON TO WALL CLEARANCES, RESULTING IN LESS PISTON ROCK. THIS HOLDS THE RINGS MORE SQUARE TO THE BORE FOR A BETTER SEAL, MORE POWER & A QUIETER RUNNING ENGINE!
THESE COATINGS ARE AVAILABLE AT SEPARATE CHARGE, SEE THE MACHINE & LABOR SECTION FOR PRICES.


RETURN TO SPECIAL PARTS & SERVICES INDEX