SPECIALITY PRODUCTS
---
VALVE TRAIN COMPONENTS

THIS CAMSHAFT IS A SPECIAL TOURING GRIND CAMSHAFT. THE OPENING & CLOSING RAMPS ARE MODERNIZED TO PRODUCE A VALVE ACTION THAT IS VERY QUIET. THIS DESIGN IS ALSO VERY EASY ON VALVE SPRING & LIFTER WEAR. YOUR ENGINE WILL PRODUCE EXCELLENT POWER WHILE MAINTAINING A SMOOTH IDLE! THESE CAMS ARE SOLD EXCHANGE ONLY, CORE MUST BE EXCELLENT,MINIMUM JOURNAL DIAMETER OF 1.557", GOOD GEAR TEETH & REGRINDABLE LOBES.
PART# A-6250-C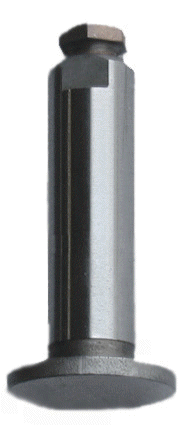 THESE SINGLE LOCK ADJUSTABLE LIFTERS ARE THE CORRECT ONES TO USE WITH ALL MODEL A CAMSHAFTS. THESE LIFTERS HAVE THE STOCK BASE DIAMETER, NECESSARY FOR QUIET OPERATION & CAM LOBE COMPATIBILITY.
PART # A-6502-B
SET OF 8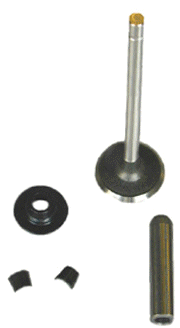 THIS SET OF VALVES, ONE PIECE GUIDES, RETAINERS AND SPLIT KEEPERS, OFFERS THE ENGINE BUILDER A MODERN VALVE TRAIN SYSTEM. THE VALVES ARE STAINLESS STEEL WITH A STRAIGHT 11/32" DIAMETER STEM. THE GUIDES ARE MADE OF A MODERN IRON THAT GIVES SUPERIOR WEAR. THEY PRESS INTO THE BLOCK WITH NO MODIFICATIONS.
PART # A-6505-A-SS
SET OF 8
THESE HARDENED SEATS ARE COMPATIBLE WITH STAINLESS STEEL VALVES AS WELL AS THE STOCK STEEL UNITS. THEY GIVE EXCELLENT WEAR USING LEADED OR UNLEADED GASOLINE. THESE ARE AVAILABLE IN SEVERAL SIZES:
PART # A-6507 1.625" X 1.375" X .219"
PART # A-6508 1.6875" X 1.375" X .219"
PART # A-6509 1.875" X 1.375" X .219"
PART# A-6509-S 1.750" X 1.500 X .250"
THIS SEAT IS A SPECIAL HIGH PERFORMANCE UNIT FOR USE WITH OUR STAINLESS 1.700" DIAMETER INTAKE VALVE #A-6506-S.